Crafts of Gujarat
Gujarat is blessed with rich and vibrant tradition of Handicrafts. It is widely differing in its proportions of its patterns to the element of wonderful exquisite Artifacts in various forms. It stands unique with diverse arts and crafts – a mixed combination with aesthetic appeal.
This state carries glorious culture since ancient years that has managed to survive till date and will continue to survive. Gujarat's art and crafts are the most unique and are not only popular within the Indian continent but all across the world. Most of the artisans in this state are normally the villagers who took initiative in creating these masterpieces of art and craft which was mainly for their households which later on only turned out to become a major industrial part of the state. This industry of art and crafts of Gujarat consists of a number of jewellery, metalwork, embroidery, furniture, clay items, handmade carpets (durries), stone crafts and other materials. In Jamnagar, the brass industry is considered to be one of the largest in India.
Gujarat is truly blessed with its strong and resonating tradition of Handicrafts. It differs in the segment of its patterns to the element of exquisite Artifacts in various forms. It stands versatile and unique with diverse arts and crafts – it is simply a mixed combination with aesthetic appeal. This state which holds a very rich culture and tradition gives immense importance to its Arts and Crafts not only from the aesthetic point of view but also from the commercial point of view.
Below is the list of Arts and Crafts that adds on to the rich culture of Gujarat: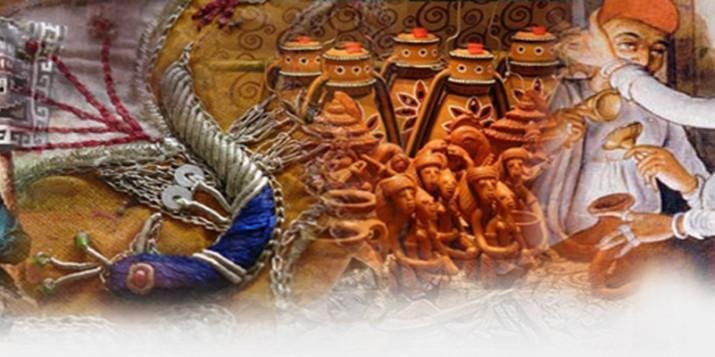 Brass and Iron Items :
Gujarat is supposedly one of the biggest producers of Brass and Iron items in our country. It is mainly produced in the princely state of Kutch and Saurashtr(jamnagar). Items made from brass and iron are the most common things available here along with copper coated iron bells, cutlery knives and beetle nutcracker. These elaborate and admirable works of art are done by the people who are descended from the erstwhile court jewellers and swordsmiths. The state is also known for its wide range of Brass items including brass and iron utensils, cutlery, knives and scissors. Gujarat also produces brass, copper and bronze thalis and bowls made by the Kansas of Shore and these items are more popular with restaurants in cities like Vadodara, Ahmedabad and Surat.
Needlework :
Needlework of Gujarat is famous world over for its elegance and accuracy.Embroidery and the textile industry is one of the major booming industries of this state. Embroidery among the Arts and Crafts of Gujarat is the widest category and in Gujarat, it is mostly carried out by women who live in villages. There is a wide range of embroideries to choose from, such as Rabari, Bavaria and Banni embroidery and Patola embroidery is the prime style that stands out of all. This state is also well known for producing gold embroidery that is mainly done to add on the look of fabrics meant for various occasions. It is done by weaving with silk yarn in different motifs and greatly used as a trousseau, and this art is actually a pride of the state.
Pottery :
Pottery is an art well known amongst the oldest and most appreciated art and crafts of Gujarat. This art is performed by ordinary rural locals who master this art of moulding clay into beautiful and well-proportioned utensils. After these utensils are created they are then painted with bright colours that enhance the beauty of the pot. The artist of this art are normally from Kutch and are renowned worldwide not only for their pottery but also for making a wide range of Terracotta toys or horses. Sabarkantha is a village in Poshina is known for its consecrate terracotta figures. These figures are considered to be an integral part of the rituals that is normally practised by their tribal communities like the Garasia Adivasis. These terracotta horses are called as Ghoda Dev have a unique place in these rituals and is considered as Gods messenger in many different cultures. These terracotta horses symbolise for the fulfilment of wishes and it is a fact that these terracotta horses have stood here for decades and decades.
Textile culture :
ujarat has a unique dress culture which evolves the Textile culture with its extravagant quality with traditional and modern design patterns. The Rogan, zari, Tye and die and exclusive Patolas are the state's graceful textile culture patterns. Peacock motifs, geometrical patterns, ikat weaving, akrakh work are some of the excellent influence with traditional and modern designs.
Jewellery :
The art of making jewellery and precious stone-cutting and processing is a traditional handicraft of Gujarat. The folk jewellery of excellent designs, characteristic of each village and each community is a typical art of Gujarat. Gold, Silver, Iron and brass works are antiquity of Gujarat.
Furnishings :
Gujarat offers a wide range of furnishings from simple and elegant cushion covers to quilts and bedcovers in a wide range of styles. Pleasantly embroidered and with micro mirrors, they have geometrical or animal motifs, patch worked, etc. Quilts are another popular handicraft item. They come in a variety of styles from simple geometric designs to more complex patterns. Other utility items like woven and Kalamkari table covers, tablemats and block printed bed land table linen. The traditional floorspread 'namdas' and 'dhurries' from Kutch, is woven with camel and goat hair and even wool and cotton.
Woodwork :
The lacquered furniture of Sankheda near Vadodara, another important handicraft industry has become synonymous with Southern Gujarat. The furniture and woodcrafts of Surat, Kutchh and Saurashtra are also popular. Minakari furniture from Rajkot, is as attractive as Sankheda furniture. Woodcarving is an ancient art of the state, which has attained a very high standard of technical skill. Some of the best examples of woodcarvings are found in temples and houses in many parts of Gujarat. Saurashtra and Sanked in the Vadodara district are also known for their lacquer work..
Bead work :
Beadwork is another Gujarati specialty from Khambhat and Saurashtra. Motifs and patterns are dictated by the technique of putting two and three beads together. Beadwork objects are used in wall decorations, potholders, etc. The best beadwork is produced by the 'kathis' (tribals). Worked mostly on a white background they use colours that are vibrant with very distinct patterns. Beadwork 'torans' are usually placed over doorways.
Patola :
one of the finest handwoven sarees from Gujarat. The famous Patola of Patan is known for its colorful geometrical pattern, which are strikingly beautiful. The unique tie and weave method of Patola results in identical patterns on both the sides of the fabric.
Zari :
The Zari industry of Surat is one of the oldest handicrafts whose origin can be traced to the Mughal period. The history of the 'zari' (gold embroidery) industry of Surat dates back to the Mughal period. Surat is one of the biggest and most significant Zari manufacturing centres in India.
Temple culture :
The excavations at the Harappan sites in Gujarat at Lothal, Rangpur, Rozdi etc. have brought to light some of the very ancient handicraft articles. Temple curtains have Goddess Durga riding tiger a well as other illustrations from Puranic legends. It is heavily decorated and embroidered decoration hung over the entrance and is considered a symbol of warm welcome.